A three-year wait is finally over. The Longines FEI World Cup Jumping® leg and the international mass event Helsinki International Horse Show returns to Helsinki Ice Hall in October, 19.-23.10. "It feels absolutely great. We couldn't take for granted, that after two covid years, Helsinki Horse Show could continue", says Event Director Tom Gordin.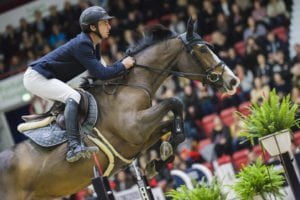 Many top riders will find their way to Helsinki Horse Show, such as Olympic medalist and three-time Longines FEI World Cup Jumping® final winner Steve Guerdat, team World Champion Jens Fredricson, World Champion team silver medalist Harrie Smolders, Calgary Grand Prix winner Daniel Deusser, Paris Grand Prix winner Marlon Modolo Zanotelli and Olympic team gold medalist and European Champion Kevin Staut. Helsinki is an important stepping stone for new names to the absolute top.
This year one should keep an eye on the young British Jack Whitake and Lily Attwood, Belgian Gilles Thomas, Danish Emil Hallundbaek and Alessandra Volpi from the United States. The Finnish newcomers are Pipsa Koski, Eveliina Talvio and the new European Champion in young riders Jone Illi, who will for the first time compete against top riders.
Sustainable Helsinki Horse Show
Helsinki Horse Show is known for being a front runner in sustainability. This year the event will calculate its carbon foot print in order to reduce the environmental impact of the event in the future.
FEI's mechanical hoof gallops in the Ice Hall
FEI has introduced a mechanical hoof, which measures objectively the quality of arena surfaces, such as grip and cushioning. This "hoof" will measure the arena surface of Helsinki Horse Show during the entire event. A warm welcome to Helsinki Horse Show in October!