Helsinki Horse Show Jumps Green
Striving Towards a Sustainable Future!
Helsinki International Horse Show is Finland's largest annual indoor sporting event. The event's aim is to become a global leader in sustainable equestrian events through its ambitious Jumps Green environmental program. This program serves as a means to achieve environmental goals and take actions while minimizing detrimental environmental impacts.
The journey towards sustainability started as early as 2017, and during the 2022 event, a comprehensive assessment and measurement of the event's carbon footprint and overall environmental effects were conducted. The calculation of the event's carbon footprint considered emissions stemming from various sources, including for example, the travelling and dining of staff, attendees, competitors, horses and partners.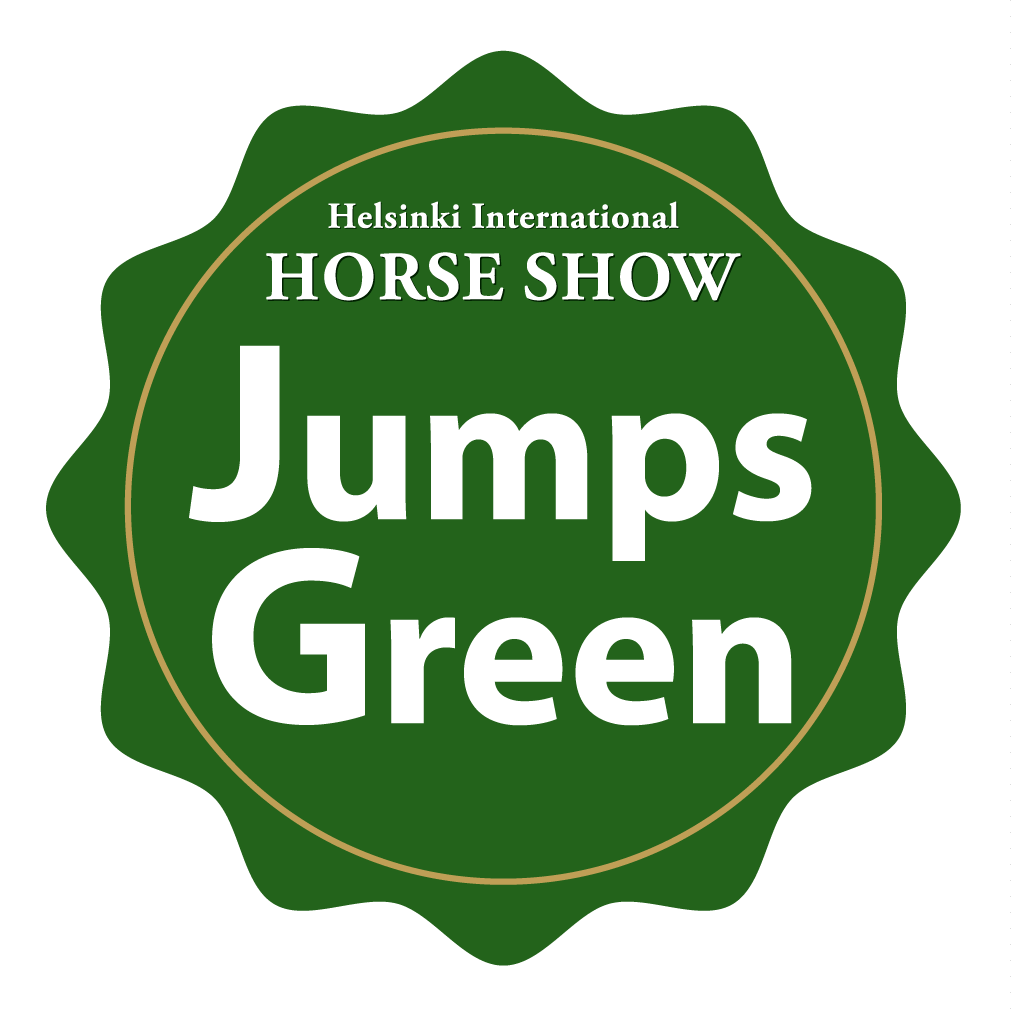 Food offerings
We are actively reducing food waste in both public restaurants and Crew Catering kitchens during food preparation. We also kindly request those dining at the buffets to pay special attention to this matter.
The event restaurants will feature a wide range of vegetarian and vegan meals. The Crew Catering will also offer a vegetarian option every day for the staff. In 2023, the VIP Lounge will exclusively serve vegetarian and vegan food.
Did you know…
The environmental impact of beef is over 20 times greater than that of broad beans.
Recycling
We offer efficient waste recycling options to all participants in the event, including staff, exhibitors, and the general public. Recycling stations are conveniently located throughout the venue, and guidance on recycling is provided by the Horse Show's Jumps Green team.
This year's event will only have mixed waste and organic waste bins. A new artificial intelligence-based technology will replace manual sorting of waste materials, making the process even more precise and efficient.
Special attention is given to procurement to minimize waste generation. Digital solutions will replace printed materials, similar to the previous event. Also, starting lists and program guides will be available in digital format.
In the main foyer of the ice hall, a water station is provided for refilling personal water bottles, and at the food service points, beverages are served into reusable cups.
Sustainable transportation
We strongly encourage the use of electric vehicles. For instance, the transportation vehicles within the stable area are electrically powered. Furthermore, Shuttle Service now utilizes electric cars. Some of Shuttle's transport routes are being replaced with bicycles for journeys between the hotel and the Ice Hall.
Helsinki International Horse Show is conveniently located along excellent public transport connections. We hope that attendees will arrive at the event following the principles of sustainable and smart commuting. This means favoring local public transport options or coming by bike or on foot. Those coming from longer distances can easily arrive by train or alternatively arrange carpooling when arriving by car.
Also, this year we are introducing Kimppakyydit.com – a carpooling service. In the service, you can arrange rides for free and safely with others attending the event. On the website, you can easily add your own carpool offer or request for the event. You can find Horse Show carpooling options in the button below. Add your own listing or search for existing listings from others and find a carpool to the event!
Harassment
Helsinki Horse Show follows the principles of  safe space, and any form of harassment, discrimination, or violation of another person's integrity is not accepted at our event. In case of any harrasment, you can report to the Helsinki International Horse Show's harassment contact person:
Helsinki Horse Show with The John Nurminen Foundation
The John Nurminen Foundation is renowned for its significant contributions to the rescue efforts of the Baltic Sea. The foundation's mission is to save the Baltic Sea and its heritage for future generations. Over the years, between 2005 and 2020, the foundation has initiated 40 Clean Baltic Sea projects, of which 33 have been successfully completed.
Equestrian sports are among the sports that impose a significant burden on nature, so it is time for a payback. Collaborating with the John Nurminen Foundation represents a tangible way to raise awareness of the Baltic Sea, considering that numerous riders and their horses travel to Helsinki via this important waterway to participate in competitions.