Saturday evening ended with German celebrations when Michael Jung and Dante RZ topped the Finnlines Helsinki Horse Show 35th Anniversary 150 cm class. Jung, who was the fastest also in yesterday's International Speed, narrowly beat the second placed Steve Guerdat on Ulysse Des Forets from Switzerland. Norwegian Johan-Sebastian Gulliksen and Chaboulet took the third place in the tight competition.
It felt great today, the horse was just as good as I thought he would be. This is a really nice show, especially because of the unique hockey stadium atmosphere. The event is very well organised and I hope to come back again, Jung commented after the competition.
Guerdat found some improvement in his own performance today but praised his horse.
I was too slow today. The horse was good and jumped well but I was simply too slow, Guerdat said tomorrow's World Cup already in his mind.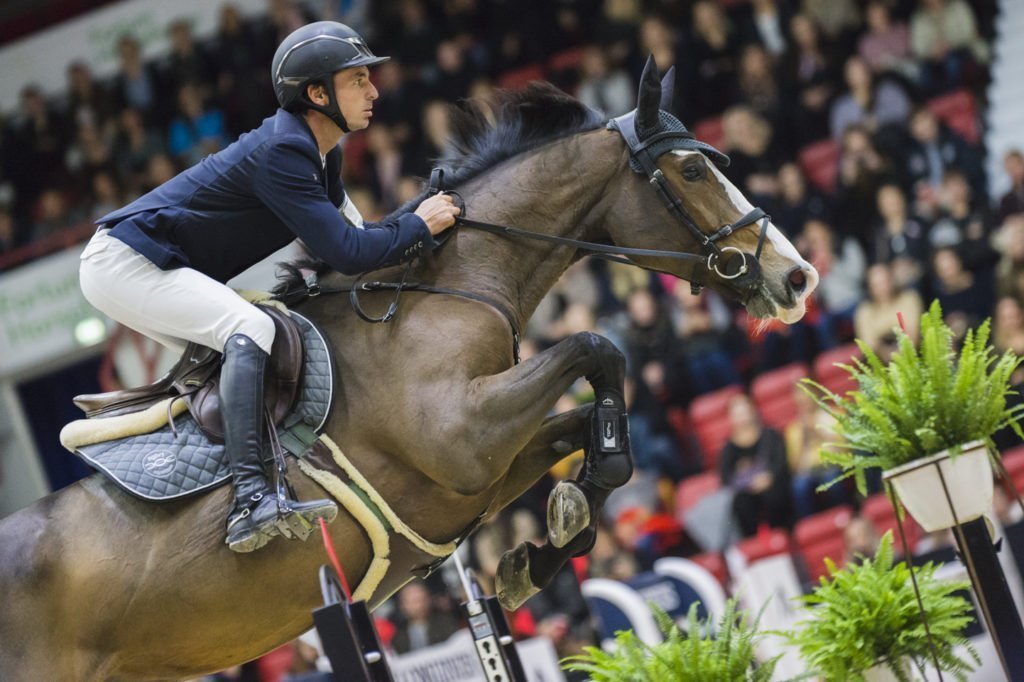 Finnlines Helsinki Horse Show 35th Anniversary 150 cm, competition against the clock. Starts 35, placings 12.
1) Michael Jung/Dante RZ, GER 0/57.77, 2) Steve Guerdat/Ulysse Des Forets, SUI 0/57.92, 3) Johan-Sebastian Gulliksen/Chaloubet, NOR 0/58.10, 4) Paola Amilibia/Floriona, MEX 0/59.30, 5) Eugenio Grimaldi/Minerva G.I.H. Z, ITA 0/60.68, 6) Celine Schoonbroodt- de Azevedo/Acapulco FZ, BEL 0/60.81, 7) Sanna Backlund/Escada, FIN 0/63.72, 8) Michael Whitaker/Flinstering, GBR 0/65.75, 9) Sven Schlüsselburg/Bud Spencer, GER 0/68.57, 10) Olivier Robert/Tempo de Paban, FRA 0/69.03, 11) Giulia Martinengo Marquet/Elzas, ITA 0/70.61, 12) Sergio Alvarez Moya/Kardenta van 'T Meerhof, ESP 0/71.59, … 17) Jasmin Ranta-Aho/Dixon, FIN 4/71.58, 18) John Antell/Iscara del Maset, FIN 4/71.72, … 21) Susanna Granroth/Baccara, FIN 8/58.08, 22) Noora Forsten/Con Caya, FIN 8/59.20, .. 26) Emma Tallberg/Dobbelt Quidam, FIN 8/68.73, .. 29) Ville Kulkas/Concept 8, FIN 10/83.52