Stopteltat International Welcome 140 cm kicked off the international show jumping program for this year's Helsinki Horse Show. This time the win went to Estonia, when Paul-Richard Argus on Jay-Z Bee managed to make the fastest clear round in time 29.61. The battle for the first place was, however, very tight and only one-hundredth separated the winner and the second placed Peder Fredricson on H&M Kirlo van den Bosrand from Sweden. Third place went to German legend Michael Jung on Clyde v. who competed in Helsinki Horse Show for the first time ever.
The day started well for home riders as well when both Sanna Backlund and Wilma Heikkinen placed in the top six. Backlund, who has won this same class two times in the last three years, was happy with the fourth place but also a little surprised.
In the training Escada felt a bit stressed so I wasn't sure how this class was going to go, but the horse was surprisingly good and alert. Beforehand I thought that the end of the course wouldn't be the most suitable for us but it went well so I'm happy with our performance.
Sixth placed Wilma Heikkinen was also clearly happy with her performance together with Elvis PS.
At the beginning I was really nervous but luckily found a good rhythm after the first few obstacles. Especially the end of the course went well and the horse was very confident. I'm looking forward to the rest of the weekend.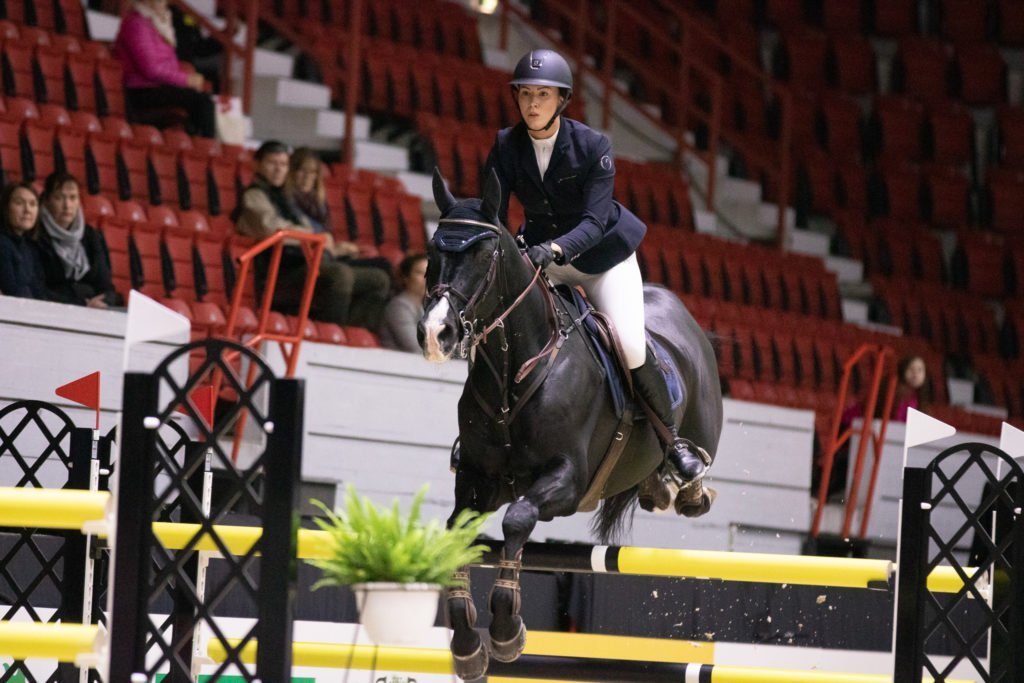 Stopteltat International Welcome, 140 cm. Competition on two phases. Started 43 placings 12.
1) Paul-Richard Argus/Jay-Z Bee, EST 0-0/29.61, 2) Peder Fredricson/H&M Kirlo van den Bosrand, SWE 0-0/29.62, 3) Michael Jung/Clyde v., GER 0-0/30.35, 4) Sanna Backlund/Escada, FIN 0-0/30.97, 5) David Simpson/Amigo,  IRL 0-0/31.72, 6) Wilma Heikkinen/Elvis PS, FIN 0-0/32.20, 7) Stephanie Holmén/Diero Lux N, SWE 0-0/33.56, 8) Evelina Tovek/Winnetou de la Hamente Z, SWE 0-0/34.56, 9) Mikael Forsten/Nabab's Atlanto, FIN 0-0/35.65, 10) Nick Benterman/Don Diablo HX, GBR 0-0/35.89, 11) Michael Whitaker/Strides Hilanasterne, GBR 0-0/36.95, 12) Martin Fuchs/The Sinner, SUI 0-0/37.39,… 23) Susanna Granroth/Leopoldo, FIN 0-4/35.00, 24) Ville Kulkas/Concept 8, FIN 0-4/35.46,… 40) Emma Tallberg/Dobbelt Quidam, FIN  4/48.79,… 41) Henrikki Pajulahti/Clara de Bergerac, FIN 8/47.41, 42) Henna Maria Kaaro/Ikon, FIN 12/48.05,