On Sunday afternoon it was time for probably the most expected competition of the Horse Show weekend when the second Longines FEI World Cup™ Jumping qualifier for the season took place in Helsinki. This year the winner came from the Netherlands when Jur Vrieling on VDL Glasgow v. Merelsnest was strongest in the challenging course with time 36.85 and surprised not only himself but maybe the audience as well.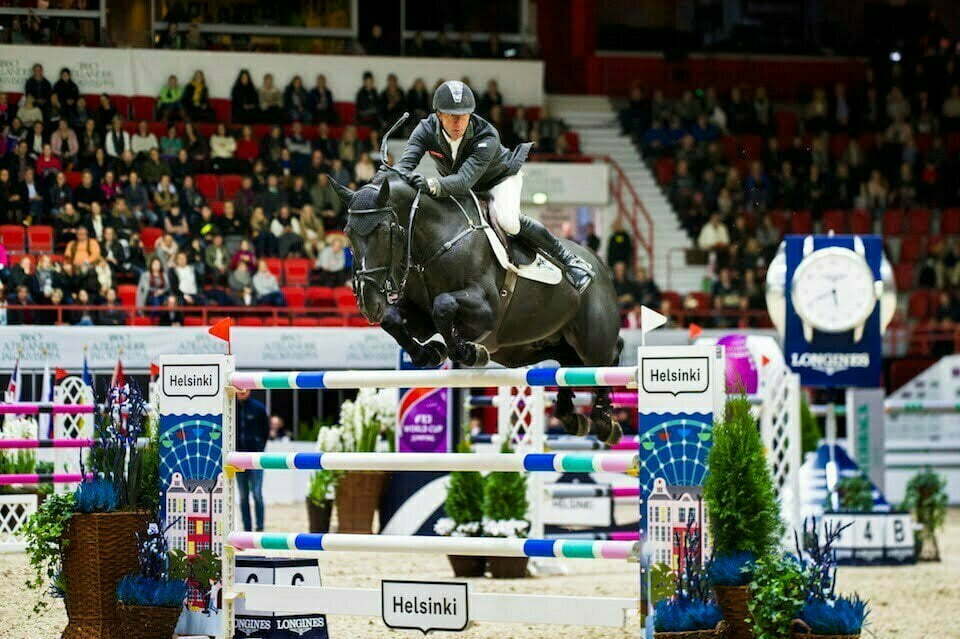 Jur Vrieling and VDL Glasgow v. Merelsnest. © Satu Pirinen.
This is now my second win in the Longines FEI World Cup™ Jumping and I have to say I'm a bit surprised because I didn't really expected to be first today. I tried to get into top three and today it worked out in the best way possible. Before the jump-off Eric (van der Vleuten) said to me that I just needed to let go and be as fast as I could at the last three fences and that's what I did, Vrieling said clearly happy after his performance.

I'm really happy to have such great horses, Glasgow has super mentality and he is really a championship horse, maybe even the best horse I have ever had, Vrieling added praising his horses.

Henrik von Eckermann, Jur Vrieling and Marlon Modolo Zanotelli. © Satu Pirinen
Swedish Henrik von Eckermann on Mary Lou also did great two rounds and took the second place in time 38,41.
I'm very pleased with the second place, Vrieling did great job today and I'm not sure we could have been able to beat him even without the stumble in the jump-off. My biggest worry now is that the horse is okay after that stumble.

The first round was fantastic and I have to complement the course designer Guilherme Jorge. 17 obstacles in this arena is a lot but the course was still great to ride, Eckermann commented.
The third placed Marlon Modolo Zanotelli managed to make two clear rounds as well and followed very close after Eckermann.
We have had a fantastic season so far and I couldn't be happier with today's result. The horse was really good already in Oslo and overall I'm really satisfied. It is a bit difficult to get invitations to Europe but I hope to get more of them in the future and hopefully I will get a chance to ride in World Cup Qualifiers more as well, Modolo Zanotelli said after the competition.
Best home rider was Juulia Jyläs on Courage T Z placing 21th. Despite the two down in the first round, she was happy with her performance today.
The horse was relaxed and gave me a fantastic feeling so I'm pretty happy with our round. When I walked through the course I thought that maybe this was still a bit early for us because the horse is quite young and we haven't jumped much on this level. It is good to continue from here and I hope to attend to more competitions on this level in the future, Jyläs said smiling.
The feeling during the weekend was again really great and there were almost 50 000 visitors altogether in five days. The event director Tom Gordin was pleased with the amount of audience and thanked everyone for coming.
This year we had maybe the highest amount of top riders here in Helsinki which is something that doesn't happen every year because Helsinki is very far away and not every horse wants to do the long journey. The event was very succesful and I want to thank the whole team for making this possible. I tend to say that teamwork makes the dream work, we had an amazing crowd, top riders, the best course designer and a great team building this wonderful event, Gordin said clearly satisfied.
Longines FEI World Cup Jumping
160 cm, one jump-off. Starts 40, placings 12.
1) Jur Vrieling/VDL Glasgow v. Merelsnest NED 0-0/36,85, 2) Henrik von Eckermann/Mary Lou 194 SWE 0-0/38,41, 3) Marlon Modolo Zanotelli/Celena VDL BRA 0-0/38,6, 4) Robert Whitaker/Catwalk IV GBR 0-0/39,27, 5) Felix Hassmann/Cayenne WZ GER 0-4/38,83, 6) Aldrick Cheronnet/Tanael Des Bonnes FRA 0-4/39,11, 7) Chloe Reid/Codarco USA 0-8/40,16, 8) Francois Jr Mathy/Uno de la Roque BEL 0-8/42,71, 9) Geir Gulliksen/Edesa S Banjan NOR 0-8/43,37, 10) Kevin Staut/For Joy van't Zorgvliet HDC FRA 4/68,84, 11) Christian Rhomberg-Saphyr Des Lacs AUT 4/72,22, 12) Evelina Tovek-Castello 194 SWE 4/72,45 …21) Juulia Jyläs/ Courage T Z, FIN 8/73,72
Longines FEI World Cup League
Top 10 after Helsinki
1 Kevin STAUT, FRA 24
2 Daniel DEUSSER, GER 20
2 Jur VRIELING, NED 20
4 Robert WHITAKER, GBR 18
5 Henrik VON ECKERMANN, SWE 17
6 Edwina TOPS-ALEXANDER, AUS 15
6 Marlon MÓDOLO ZANOTELLI, BRA 15
8 Peder FREDRICSON, SWE 13
9 Christian RHOMBERG, AUT 13
10 Douglas LINDELÖW, SWE 12
10 Felix HASSMANN, GER 12